Edit: March 2022, I am keeping the blog post as it was my first impression at the time, but I have to admit I was wrong, Dedicated Pool is designed for Big Data Workload, Starting from TB, it does not work well at all for small dataset, basically I was testing it for a load that was not design for it.
for Data size in the 100 GB , SQL Server with columnstore index is probably a better option.
in a previous blog, I showed that Synapse Serverless is not great for interactive BI workload, which is rather obvious as even Microsoft don't recommend it as a best practice
The logical next step is to have a look at Dedicated Pool ( ex SQL DW), where you don't pay by data scanned but rather resource reserved, this model make more sense for a steady interactive Workload.
To be very clear, this is a real first impressed, I did not tried any optimization (to be honest I don't even know how to do it), all I wanted is to get a feeling of the product.
Creating a new cluster is trivial, notice, I have already a Synapse analytics Workspace, Microsoft is very good in creating integrated solution
You can directly start running Queries from data store in Azure storage, see example here,in this example , I am selecting serverless here.
Now using dedicated Pool, I had first to start the cluster as it was suspended, you need to wait a couple of minutes
And for some reason, openrowset did not work, instead, I need to create External Table, still very easy
The GUI generate the SQL Script, very nice
DUID is a short string, but I will leave the default value as nvarchart(4000), for some reason the column SETTLEMENTDATE is recognized as a number, it is should be a datetime ( maybe the issue is with parquet file itself), but that's not a big issue for this blog. the point is you can Query your data lake files either using dedicated pool or Serverless
Native Storage
Dedicated Gen2 does not support a real separation between storage and compute, when you load a table, it has to be allocated to a specific DWH, and cross Query between DWH is not supported ( it is planned since 5 years).
Loading data is very easy, same approach, a GUI will generate a script
and here is the Script generated, I changed the text column to varchar(20)
Now instead of loading only 1 file, I loaded 536 files, it took 8 minutes, that's seems very slow
Performance
Obviously, it is not a benchmark, but just to get a general feeling, when I test it with a very small table, I did like the results in PowerBI (Direct Query took 940 ms and DAX literally 5 ms)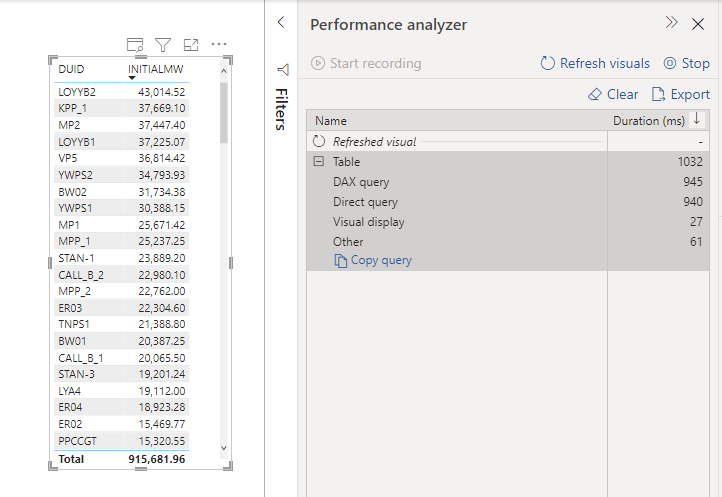 A bit latter, I try it with Another again , first I got this error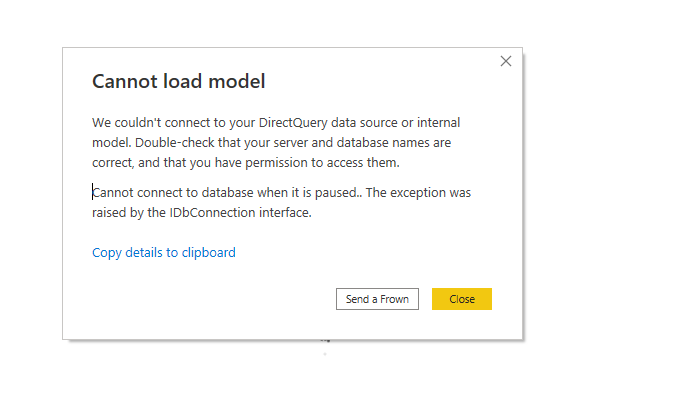 it was my fault, when a cluster is suspended, it will not wake up automatically when it receive Queries, you need to manually start it.
The PowerBI report is a simple Direct Query with some table, just to generate multiple SQL Queries
Initially it felt alright, but when I added another instance of the report, things start to feel slow, had a look at the service and SQL Pool has already started adding SQL Queries to the Queue !!!!
Take Away
The Good :
Integration with Azure Storage
The Bad :
1.181 $/Hour is far from being cheap for an entry level tier specially that auto suspend does not Work.
Dedicated Pool is the only major DWH that does not separate Storage from compute, you can't simply spin up a compute and Cross Query another dataset.
The Ugly :
Performance and concurrency seems particularly poor out of the box.
I am sure there are some optimization that can be done ; for example switch on result cache ( why it is not on by Default ?) maybe partition etc but I wanted just to give a first impression, and honestly color me unimpressed, Better Gen3 be Good.
Edit : got this feedback from Andy that DW100c is limited to 4 Concurrent Queries